The question of how we can reduce food waste is extremely topical. As a responsible part of the food supply chain, we are actively working on reducing food waste effectively – right across the entire Danone value-creation chain.
We aim to comprehensively tackle food loss and waste in all areas – including agriculture, production, wholesale, retail and consumption. We are also achieving our goals by establishing strong partnerships and through industry associations. At Danone, we firmly believe that we can overcome the issue of global food waste by working together.
As a major food production company, we are aware of our extensive responsibility – this does not stop at the factory gate, as our former CEO Antoine Riboud put it in 1972.
Our dairy in Ochsenfurt is supplied by over 90 small and medium-sized dairy farms in the local region. We support them in their activities by having permanently employed Danone milk production advisors who are there to assist the dairy farmers in every way – from animal fodder to hygiene. Our partnership makes a major contribution to combating food waste. For example, we advise our milk producers on how to keep their milking systems at a hygienically clean standard and ensure the microbial count in the raw milk stays below the applicable thresholds stipulated by legislation on milk. If high microbial counts do occur, our advisors help the farmers to quickly identify and rectify the cause – any farm that exceeds the limit is excluded from milk supply by the veterinary inspection office. In this way, we ensure high quality milk production and avoid loss of raw milk.
We also work closely with farmers on controlling inhibitors which prevent the growth of bacteria and cultures, hindering the fermentation process. If the presence of inhibitors in the milk is verified, that milk cannot be used to make dairy products and is discarded. Farmers report suspected inhibitor problems at an early stage. In serious cases, this helps ensure that only relatively small batches of milk are contaminated with inhibitors, resulting in less milk being lost. Around 300 tonnes of milk were lost in this way in Ochsenfurt in 2008 while the figure stood at just 115 tonnes in 2018. In percentage terms, this means a reduction from 0.35% to 0.15% of total production was achieved.
In addition to our high hygiene standards, a great deal of care and a high level of professionalism are required to ensure that there are as few losses as possible during production. Even seemingly small changes have major implications here. Our dairy in Ochsenfurt uses a tool known as a 'Molch' which acts as a giant spatula to reduce the amount of fruit waste. This technological solution puts fruit remnants stuck to the walls of the fruit tank back into the mixture. The result is that 24 kilograms more fruit can be used for the products each time the fruit container is changed. With around 1,400 fruit container changes, around 33.6 tonnes of fruit are collected each year and their loss avoided. But we also make use of unavoidable production remnants or no longer edible products in biogas production and – where feasible – for animal fodder.
To guarantee the freshness of the products sold, retailers require a minimum remaining shelf life for deliveries. Excess edible products, which cannot be supplied to retailers because the minimum best before date is too short, are sold via our secondary market of clearance sales to bulk buyers such as army barracks, hospitals orother canteens.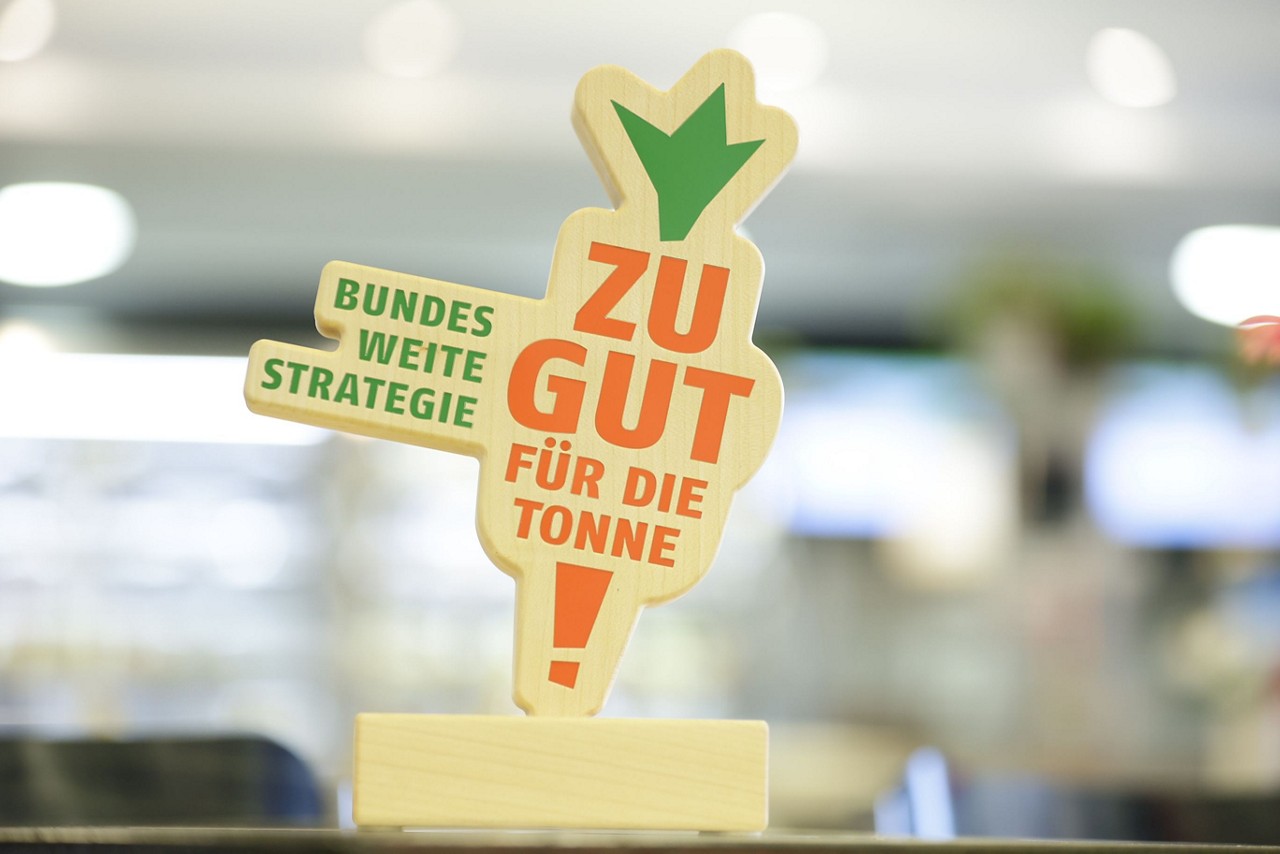 This is now also available digitally to our major customers via our Clearance Sales Online Shops – in Germany since May 2020 and in Austria since July 2020. We exclusively provide products with shorter minimum remaining shelf life at favourable conditions via these sales channels. Thanks to our Clearance Sales Online Shops we prevented the waste of 30% more Danone products in 2020. In 2021, our e-shop was presented with the Zu gut für die Tonne (Too Good for the Bin) Federal Prize in the digitalisation category by the German Federal Ministry of Food and Agriculture. 

We also donate Danone products with a short best before date to food banks, where they are distributed to people in need. In 2020, we donated over 500 tonnes of edible food to charities across Germany, Austria and Switzerland. In addition to donating to food banks in Germany, we also donate to ones in Austria and Switzerland. We have also been working closely and successfully with Tafel Deutschland for years and are supporting the development of an efficient, digital online donation platform.
There is great potential for reducing food waste through joint volume planning with retailers. Danone is able to prevent excess production more effectively by achieving greater planning certainty, for example with promotional campaigns or the introduction of new products. Closer coordination with retailers – including portfolio analysis and joint forecasting – enable highly accurate production and prompt delivery of products which results in longer shelf lives for retailers. Joint planning with end-to-end smart solutions, where externally available information is fed into volume planning supported by algorithms, is an exciting area of development in cooperation with the retail sector.
Consumers also play a key role in combating food waste. One of the main reasons for discarded products is the minimum best before date stipulated by law, which is often misunderstood and interpreted as an expiry date by consumers.
The best before date refers to the time up to which the food is guaranteed to last until.
We see two solutions to this problem:
Extending the shelf life of our products.
Transparently explaining the often longer best before date of food together with retailers and other partners.
We believe that only by providing targeted information about the best before date can consumers make informed decisions in the supermarket aisle and their own fridge and understand the best before date of the products purchased.
As an official partner of the Oft länger gut initiative of Too Good To Go, Danone DACH is supporting major national campaigns in Germany, Austria and Switzerland and additional information on the best before date to reduce food waste and to provide greater awareness about the use of food.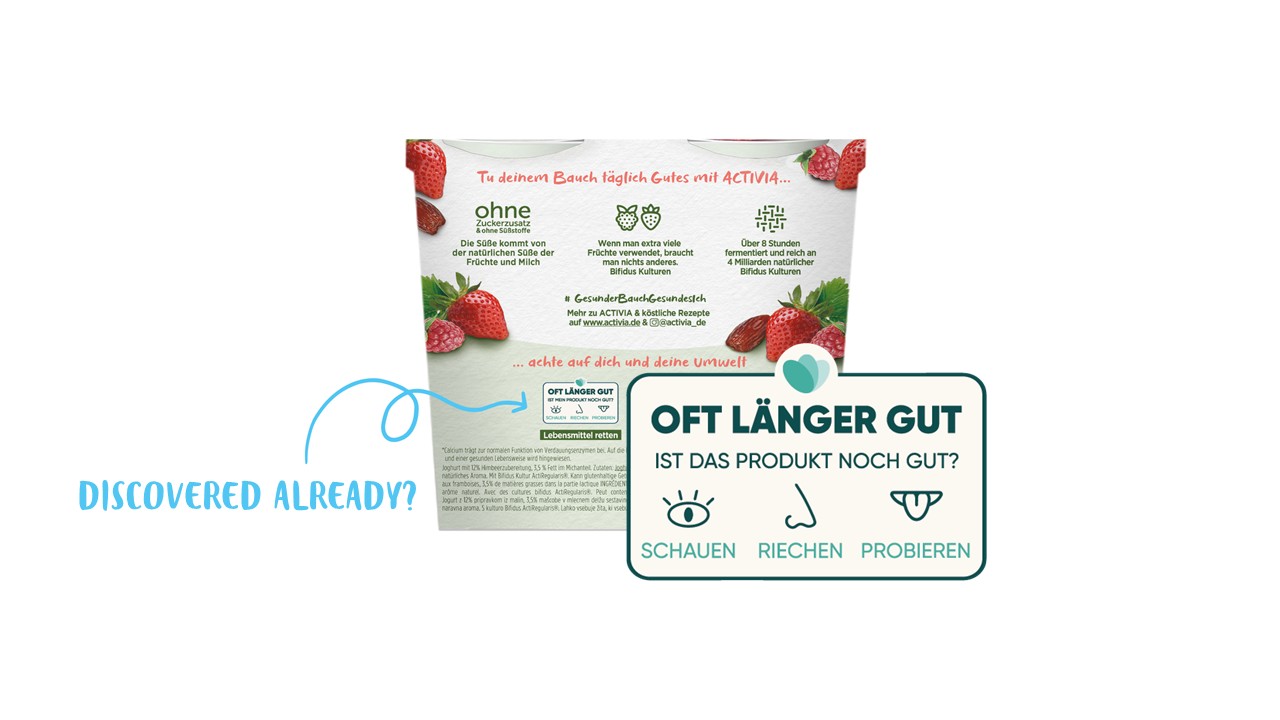 Additional labelling on the product packaging enables consumers to see at a glance that the food they have purchased is 'Oft länger gut' and that checking the product themselves (looking, smelling and tasting) can avoid wasting food that is still edible.
In this way we can jointly reduce food waste at home on a sustainable basis and save food. The Oft-Länger-Gut label is now also being used on our entire Activia dairy product range.
New Food Waste Study for the Germany, Austria and Switzerland region by Danone and Too Good To Go: analysis of consumer food waste
Together with Too Good To Go in Germany, Austria and Switzerland, Danone conducted a study on consumer food waste in 2021. Its focus on the combined Germany, Austria and Switzerland region sets the study and its results apart from other food waste studies published in the past.
It examines the reasons for throwing food away, the product groups most frequently thrown away, the role of the best before date as well as desired solutions and measures from the perspective of consumers. T
The study provides Danone and Too Good To Go with a foundation for developing further solutions to reduce food waste and to provide consumers with optimal support to ensure even more food ends up where it belongs in future: on the plate and not in the bin – for One Planet, One Health. The full report can be found here.
Further initiatives in the field of food waste
More information on Danone's commitment against food waste