To achieve our mission of improving the quality of life of as many people as possible, we give top priority to the quality and safety of our products. We focus on providing optimal support for our consumers, parents and patients at all stages of life – from infancy to old age and during nutritionally challenging life situations. We always consider our planet in our activities.
Our quality assurance is based on a transparent value chain, continuous quality management and constructive dialogue with consumers, patients and parents.
Transparent value chain
We are in contact with all our suppliers, farmers and retailers and can trace all product ingredients back to their producers. We aim to establish long-term relationships with our suppliers. Constant quality controls ensure that manufacturing processes are as transparent as possible and the supply of first-rate raw materials.
Continuous quality management
Quality has top priority at Danone. This starts with the milk that we purchase from our farmers, with the cereals and all the other raw materials, but extends far beyond the entire production process. Countless quality checks are carried out from when ingredients are delivered to when the products leave our plant.
Development
When developing new product ideas or making changes to existing ones, we conscientiously assess potential risks and factors that could influence our product quality to exclude any risks to consumers. All raw materials, packaging materials and finished products must meet a range of qualification criteria to assess food safety and to meet Danone's high quality standards. This includes microbiological, physical and chemical testing as well as ensuring the correct allergy information is displayed on our products.
Procurement
Checks on our fruit, cereals, dairy and packaging suppliers are a vital part of our procurement process. All new suppliers undertake to comply with Danone's high quality standards as part of the onboarding procedure. Before accepting a new supplier, we carry out an on-site operational inspection to confirm conditions at the production facility are up to standard. After onboarding, we then carry out regular checks on our existing suppliers. These measures help ensure stable and successful collaboration.
Manufacturing
Whether it's the quality of our raw materials, the systems involved in the production process or the packaging used, the continuous monitoring of our food and production processes at our plants ensures the exceptional quality of our products. We carry out extensive internal checks on a day-to-day basis to quickly identify any faults or abnormalities. We test our products for taste, aroma, appearance and consistency. The products also undergo microbiological and chemical testing at the laboratory.
Logistics
The monitoring of product quality does not stop at the plant's gates. In exactly the same way as with our production facilities, we also inspect our logistics centres at regular intervals to ensure compliance with Danone's rigorous quality standards. Hygiene, maintaining the cold chain for chilled products, avoiding damage to packaging, protecting products against external influences and ensuring traceability play a key role here. The products must also comply with quarantine requirements. This means that Danone products are only delivered to retailers once all analyses have been completed to our full satisfaction.
Sales
Once our products reach the retailers, we regularly check their presentation on the shelves and compliance with the quality standards we set through store checks.
Sustainability
At Danone, we aim to ensure our processes are sustainable. We attach great importance to the careful management of raw goods and materials in our production process, and to the avoidance of product waste in our value chain and by our customers.
Natural mineral water guarantees natural purity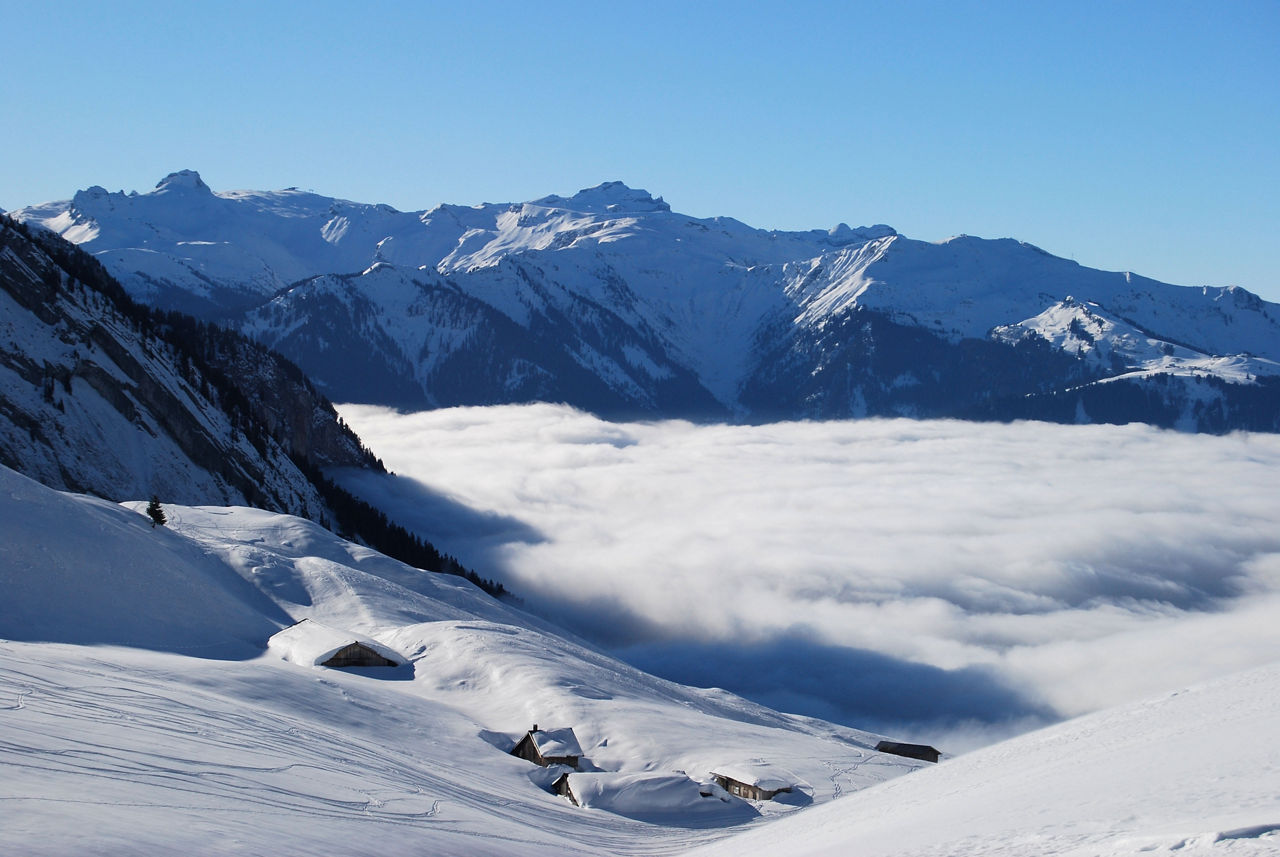 A good natural mineral water starts with a healthy natural environment. That's why it is our duty to protect it. For over a decade, we have conserved the sources of this valuable natural product – the environment shaped by volcanoes and the Alps and the sources of Volvic and evian®.
Mineral water is a natural product. It is produced when rain or snow falls within the catchment area and is then filtered through various layers of rock over many years. Natural mineral water – in comparison to many other types of water – is not chemically treated to improve the water quality.
In contrast, the physical, chemical and microbiological treatment of mains water – which in Germany is made up of 70% groundwater and 30% surface water on average – is permitted and also necessary in many places so that consumers can drink it. Water suppliers can use around 90 additives and 9 disinfection processes to purify, deacidify, soften and desalinate the water. This means mains water is chemically clean, but not naturally pure.*
Although ground water is generally of good quality, treatment is required in many regions according to the Federal Environment Agency (FEA). In contrast, the FEA says that surface water must always be treated.
Mineral water guarantees natural purity. Mineral water – which comes from water deep underground that is protected against impurities – is naturally pure at the source and immediately drinkable.
The limits and guideline values set out in the Mineral and Table Water Ordinance apply to all mineral springs. Provided values safely and consistently remain below these limits, the mineral water is officially recognised as a unique food product. Purification with chlorine or other chemical substances is strictly prohibited. The highest quality standard is fully guaranteed until the bottle is opened as mineral water is bottled directly at the source to ensure natural purity. Further information can be found on the website Dialog Mineralwasser.
*Source: Dialog natürliches Mineralwasser.
Constructive dialogue with consumers
Our service for consumers provides expert information on all matters related to our products. Through this dialogue with consumers, ideas for new taste trends or product recipes are generated. We also regularly carry out tests and studies with consumers.
Do you have any additional questions? Then simply write to us – here's the contact form.