4.640

B Corp certified companies
Interested in learning more about B Corp™?
Certified B Corporations are leaders of a global movement of people using business as a force for good. B Corps aspire to use the power of business to solve social and environmental problem.
B Corp Certification is a mark of trust: a promise that a company is doing business in a way that meets rigorous standards of social and environmental performance, transparency and accountability. B Lab, a third-party non-profit certifies it.
To obtain B Corp certification, a company must complete a B Impact Assessment (BIA) and earn an audited minimum score of 80 out of 200 possible points and recertify - with the aim to continuously improve - every three years. Visit B Corp™ website
DANONE'S B CORP-CERTIFIED ENTITIES
B CorpTM in Germany, Austria and Switzerland
We are proud that within the DACH region, the two business units for natural mineral water in Germany as well as in Switzerland – Danone Waters Germany and Evian Volvic Suisse – have already achieved certification. In addition to the globally certified Alpro, the business unit for fresh milk has also successfully gone through the certification process in all three DACH countries. Our business unit for early life and medical nutrition will follow shortly.
Danone DACH has set itself the goal of being 100 % B Corp certified by 2023. With the certification of the "Dairy" division in spring 2022, an important milestone towards this goal has been reached. This means that Danone will generate almost three quarters of its turnover in Germany, Austria and Switzerland through B Corp-certified business units this year.
B CorpTM at Danone worldwide
90
Average BIA* score
*B Impact Assessment
Find out more about our certified entities
B THE CHANGE
"We have a dream.That one day, all companies will compete not only to be the best in the world but the best for the world." B Corp™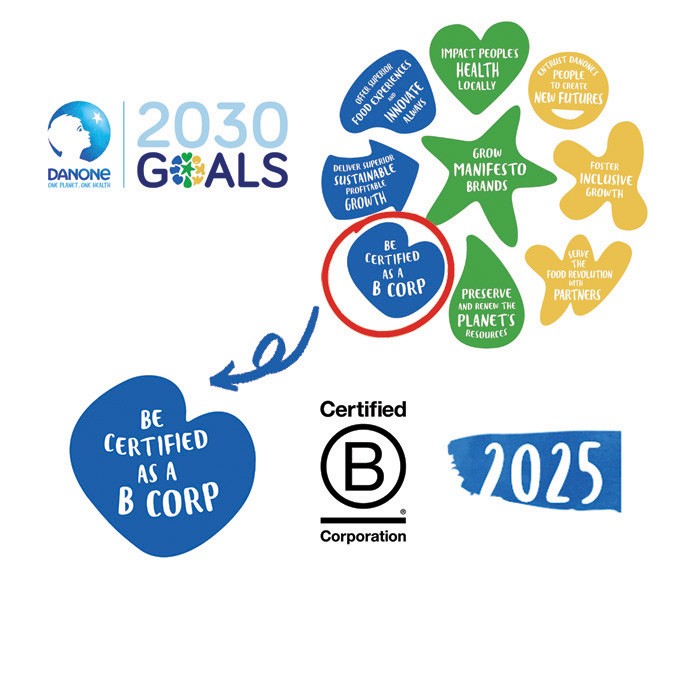 Since 2015, we have been working with B Lab to define a meaningful and feasible certification pathway for multinational and listed companies to make the B CorpTM guiding principle of combining economic success with social and environmental sustainability the norm more quickly.
This goal is supported by Danone's recent decision to become an Entreprise à Mission (2020).
It is also an expression of our long-standing commitment to sustainable business and Danone's dual project of combining economic success and social progress.
Interested in learning more about our "Goals 2030"? Click here