3.522

B Corp certified companies
Interested in learning more about B Corp™?
Certified B Corporations are leaders of a global movement of people using business as a force for good. B Corps aspire to use the power of business to solve social and environmental problem.
B Corp Certification is a mark of trust: a promise that a company is doing business in a way that meets rigorous standards of social and environmental performance, transparency and accountability. B Lab, a third-party non-profit certifies it.
To obtain B Corp certification, a company must complete a B Impact Assessment (BIA) and earn an audited minimum score of 80 out of 200 possible points and recertify - with the aim to continuously improve - every three years. Visit B Cop™ website
DANONE'S B CORP-CERTIFIED ENTITIES
B CorpTM in Germany, Austria and Switzerland
We are proud that within the DACH region, the two business units for natural mineral water in Germany and Switzerland - Danone Waters Deutschland and Evian Volvic Suisse - have already achieved certification. All other business units will follow their example in the near future.
B CorpTM at Danone worldwide
A total of twenty-seven Danone entities have now earned B Corp™ Certification. As a result, over 45% of Danone's global sales are now covered by B Corp™ certification, marking significant progress towards Danone's ambition to become one of the first certified multinationals.

90
Average BIA* score
*B Impact Assessment
Find out more about our certified entities
B THE CHANGE
"We have a dream.That one day, all companies will compete not only to be the best in the world but the best for the world." B Corp™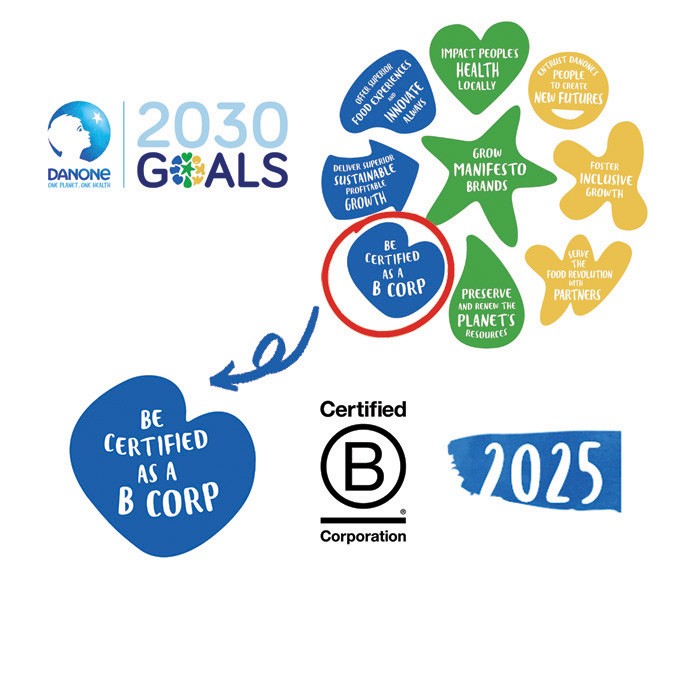 Since 2015, Danone has partnered with B Lab to help define a meaningful and manageable path to certification for multinationals and publicly traded companies, as well as accelerate growth of the B Corp movement into the mainstream.
This goal is supported by Danone's recent decision to become an Entreprise à Mission (2020).
It is also an expression of our long-time commitment to sustainable business and to Danone's dual project of economic success and social progress.
Interested in learning more about our "Goals 2030"? Click here