Making better choices - nutritional targets and Nutri-Score
Less sugar, less fat: By 2020, we want almost all our Danone products to meet new nutritional targets. Why? We want to use product reformulations to make our already good nutritional profile more transparent. The Nutri-Score - the nutritional labeling of food - now marks what we have been working on for a long time: healthy and high-quality food.
Product reformulations have been part of our continuous development at Danone for years. After all, the health of our customers is close to our hearts - starting with the smallest among them: The example of FruchtZwerge shows how we have consistently reduced the sugar and fat content over the years. Without any loss of taste. After all, the best nutritional values are of no use if consumers no longer like the taste of our products. Our experience shows that consumers initially react skeptically to a reduction in sugar and fat in their favorite products. This is illustrated by an example from 2012: a new Actimel product, completely without sugar, was not accepted by our consumers.
Reducing sugar and fat in several small steps is therefore more promising: In the case of FruchtZwerge, we took a total of ten small steps over a period of years. And we have been successful, as our FruchtZwerge products are just as popular with young children today as they were years ago. Accordingly, we are taking small steps toward balanced nutrient profiles in our products with less added sugar and fat.
We have also committed ourselves to providing clear information on the nutritional values on our product packaging. In this way, we want to support our consumers in making more conscious choices for a balanced diet. The Nutri-Score nutrition labeling model meets these requirements in a special way. The advantages: The Nutri-Score is based on science, understandable to consumers at first glance and contributes to informed product choices.
With the help of the Nutri-Score, we want to live up to our responsibility for our consumers in Germany as well. Since 2019, we have therefore been voluntarily introducing the Nutri-Score gradually on our fresh dairy products. Our vision: We advocate the Nutri-Score on all Danone Essential Dairy & Plant-Based products in Germany.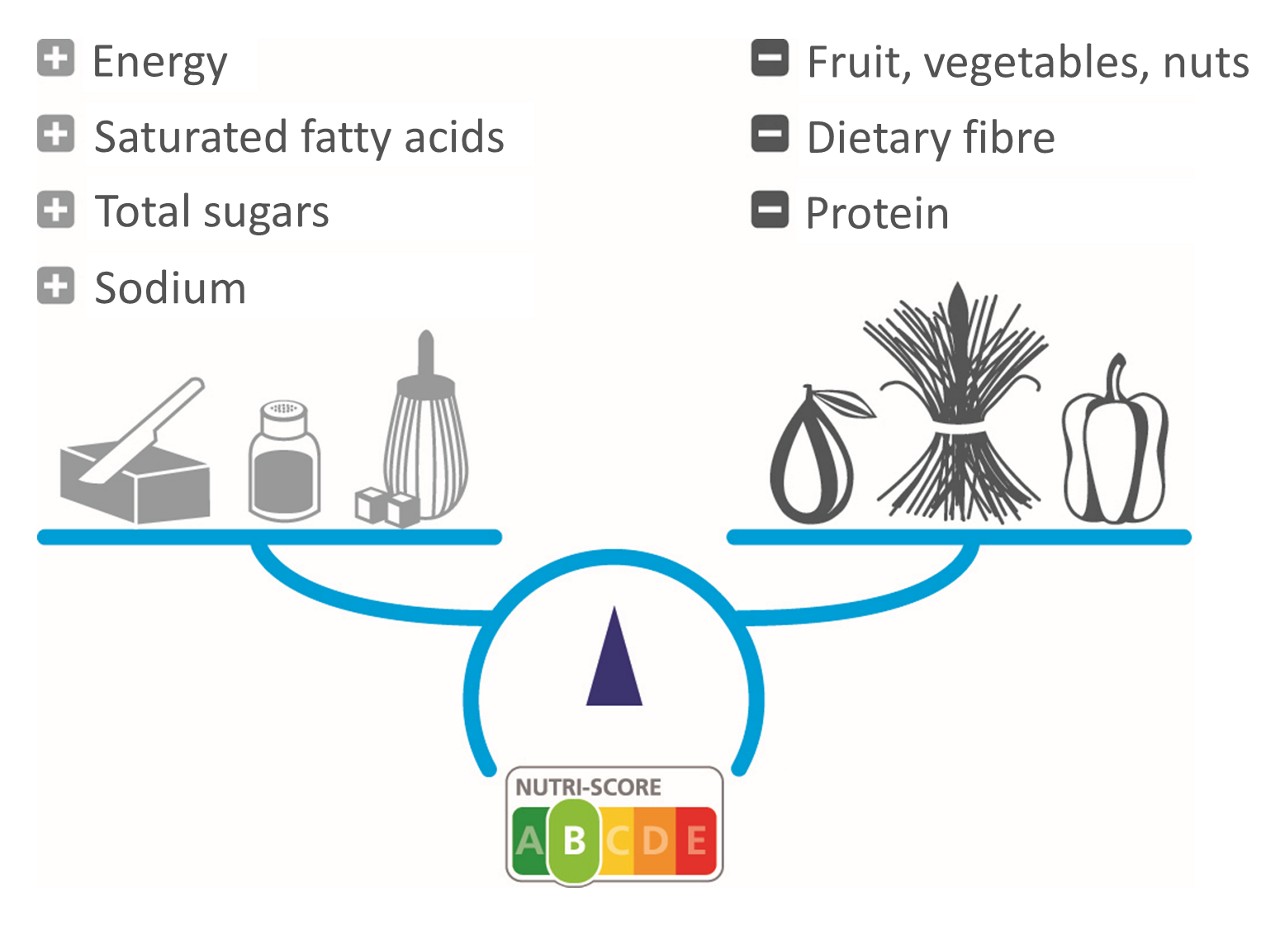 The development of the Nutri-Score can be traced back to the two nutritionists Prof. Mike Rayner and Prof. Serge Hercberg. Rayner developed a system for calculating nutritional profiles for the British Food Standards Agency (FSA). This was also named after him: Rayner Score. Based on the Rayner Score, Prof. Hercberg and his team in France designed a more advanced labeling system for food and beverages starting in 2014.
The special feature of the system developed by Professor Hercberg lies primarily in its holistic approach. Both the nutritional elements that should be limited and the nutritional elements that are considered beneficial for healthy people in typical life situations are included in the assessment of the nutritional content of foods and beverages. The Nutri-Score considers the nutritional elements of a given food in their entirety and arrives at a color-coded five-level scale.
How is the Nutri-Score calculated?
Desirable and less desirable nutritional elements are included in the score. Less desirable nutritional elements receive plus points in Nutri-Score. Desirable nutritional value elements result in minus points in the calculation. The total result of this calculation can be between -15 and +40 points.
The Nutri-Score thus comprehensively maps the nutritional quality of a product. To determine the Nutri-Score, desirable and less desirable nutritional elements are compared.
Das erfolgt in drei Schritten:
In the first step, the content of the undesirable and desirable nutritional elements is determined according to their respective content per 100 grams of food or beverage. For example, the following are recorded as undesirable nutritional elements: total sugar content, saturated fatty acids, sodium content and energy content. Desirable nutritional elements include fiber, protein, fruits, vegetables and nuts. For each nutritional content, points are given along rating scales based on the Rayner score.
In the second step, these points for the non-desirable and desirable nutritional elements are offset against each other. This results in an overall score for the product. Here, the lower the score, the higher the quality of the nutritional profile.
In the third step, the total points are assigned to a five-level classification within the Nutri-Score. Each level is assigned a color and a letter. These range from "green" and "A" to "red" and "E".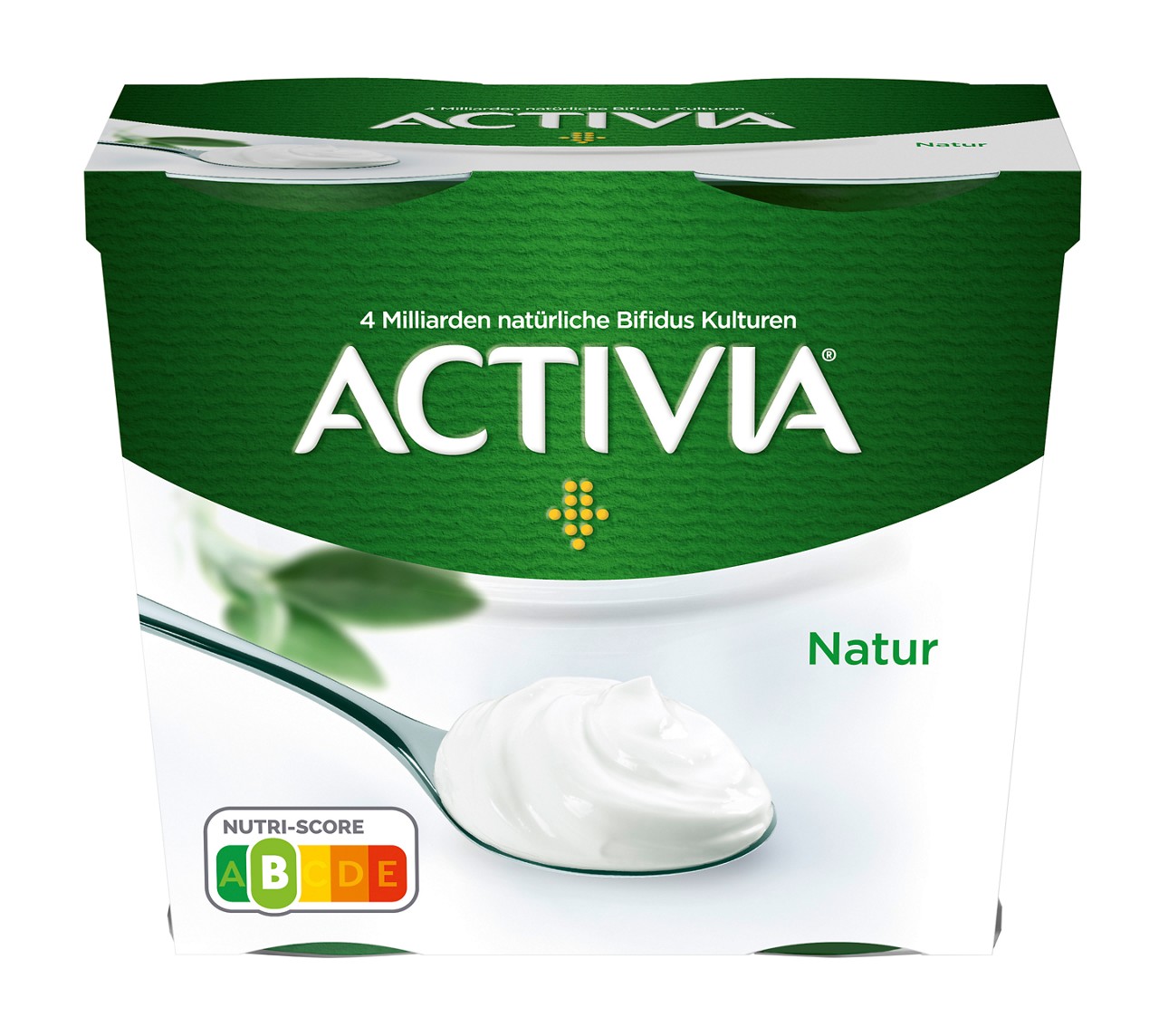 0 total points for Activia Plain
The product has achieved the second highest nutritional quality possible in Nutri-Score. In Danone's Nutrition Commitments, Activia Natur 3.5% is a fresh dairy product suitable for daily consumption.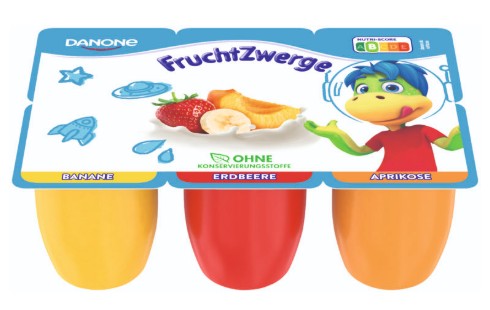 FruchtZwerge became the first product in Germany to carry the Nutri-Score label in February 2019. Dany, Activia and Actimel followed during the course of that year. Since the beginning of 2021, all fresh dairy products in Germany carry the Nutri-Score on their packaging.
Comparison of different labeling systems - results of consumer studies on understanding and purchasing behavior
The Nutri-Score differs from other nutrition labeling systems. To facilitate comparability for consumers, the Nutri-Score is calculated on a 100-gram basis rather than by serving size. Unlike the three-tier "multiple" traffic light labeling model, the Nutri-Score gives an overall rating to the food or beverage and therefore only one color-coded label; in five easy-to-understand ratings. This model has subsequently been further developed with the involvement of the French nutrition authority ANSES and the French Republic's High Council for Public Health, among others.
In several comparative studies with other nutrition labeling systems conducted in France between 2015 and 2017, the Nutri-Score also had to prove its comprehensibility to consumers and its impact on purchasing behavior. Two studies showed that the consumers surveyed rated the Nutri-Score as the most easily recognizable and understandable labeling system compared to other so-called "front of pack" labels, such as the "multiple traffic light" or the GDA label.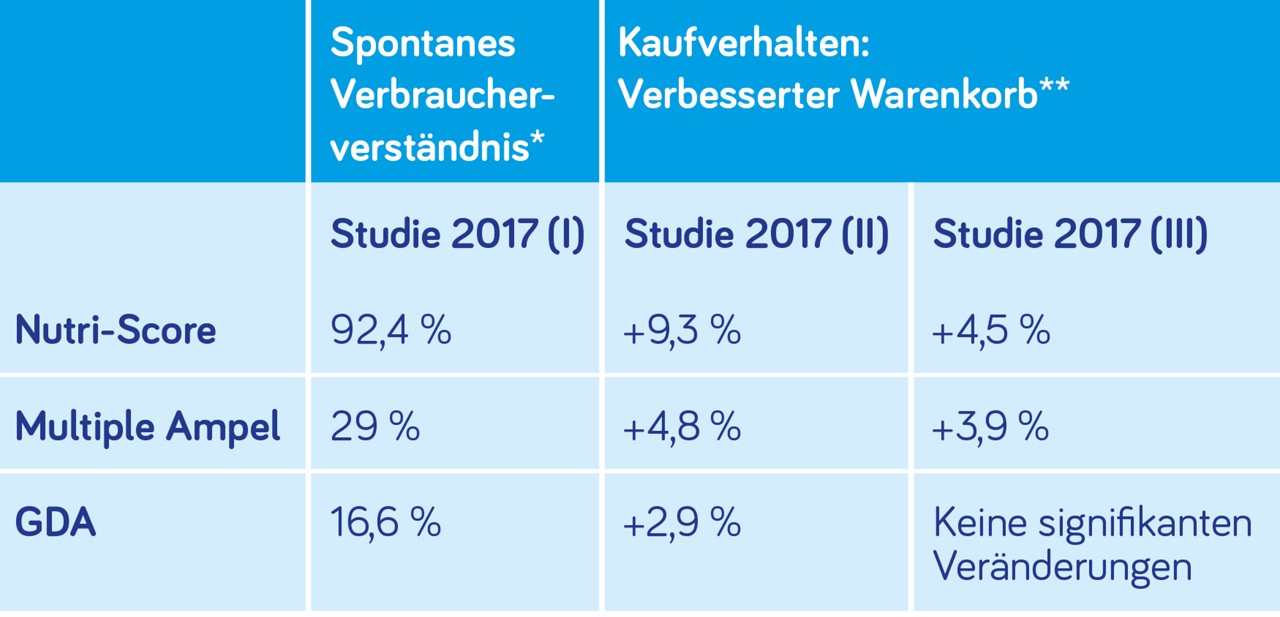 The Nutri-Score was also the most likely to correctly classify products along the overall nutritional quality. In five other studies on the impact on actual purchasing behavior, it was also shown that the Nutri-Score most significantly increased the nutritional quality of the products selected by consumers in the shopping basket. Consumer organizations such as "UFC-Que Choisir" and "60 million consommateurs" are also in favor of the Nutri-Score. In March 2017, the French government made the decision to use the Nutri-Score as the preferred voluntary nutrition labeling model for food. This was an important step, which WHO Europe explicitly praised.
The rollout in France also includes many industrial and retail companies such as Bonduelle, McCain, Weightwatchers, Fleury-Michon, Intermarché, Auchan and Leclerc. In parallel with the launch, the Nutri-Score is still being further developed - discussions are currently underway to extend it to restaurants and bakeries in France, for example. We at Danone have also recognized the potential of the Nutri-Score and therefore support this innovative tool for nutritional labeling of food.
Nutri-Score information on bewussterernaehren.de
Seit Juli 2019 können sich die VerbraucherInnen zusätzlich auf der Website www.bewussterernaehren.de genauer über den Nutri-Score informieren und finden dort breit gefächerte Informationen, wie die Berechnungsgrundlage und wissenschaftliche Basis des Systems.
* Proportion of test subjects who were able to correctly classify three products from four food categories according to their nutritional quality using the labeling systems.
Study 2017 (I): CREDOC FFAS. ;Les enquètes complémentaires Etudes quantitatives. Evaluation ex ante de sysèmes d'étiquetage nutritionnel graphique simplifié, 2017, page 38.
** Percentage increase of participants with improved nutritional quality of the shopping basket (along FSA score) according to label.
Study 2017 (II): study in an experimental supermarket: Crosetto, P., Lacroix, A., Muller, L., and Ruffieux, B. Modification des achats alimentaires en réponse àonse à cinq logos nutritionnels. Cah Nut Diet, 2017; 52, 3, 129-133, pp. 3.
Study 2017 (III): field study in 60 real supermarkets: Evaluation ex ante de sysèmes d'étiquetage nutritionnel graphique simplifié. Rapport du comité scientifique. Fond Français pour l'Alimentation & la Santé (FFAS), page 51.