Our goal: accelerate the transition to a circular packaging economy
Packaging is essential for us to provide people around the world with nutritious, high-quality food and beverages. But this must not come at the expense of the environment. Today's mainstream packaging system is not sustainable because it still consists mainly of linear raw materials: raw materials are used to make product packaging, and after the product is consumed, the packaging is thrown away. This model presents us with major challenges, especially with regard to plastics.
As a company committed to protecting and promoting the health of the planet and people, we want to do our part to accelerate the transition from a linear to a circular packaging economy.
Our goal is packaging that keeps 100% of the materials used in the cycle. This means eliminating unnecessary packaging. All packaging needed in the future should be 100% recyclable or reusable. And we want to ensure that the material we use remains part of the circular economy and never becomes waste or pollutes the environment.
I. PACKAGING THAT PROMOTES A CIRCULAR ECONOMY
WHERE WE ARE TODAY
In 2017, 86% of our total packaging globally (and 77% of our plastic packaging) is reusable, recyclable or compostable, and over 50% of our water is sold in reusable canisters. We are constantly working on innovative ecological design ideas. One example is evian®'s pilot program to replace the non-recyclable shrink wrap with specially designed tape handles that hold water bottles together.
WHAT WE ARE WORKING ON
Our 2025 goal is for every piece of packaging - from bottle caps to yoghurt pots - to be reusable or recyclable. At the same time, we are working to design our products to optimize material use and eliminate waste. This means developing new alternative delivery or reuse models, while taking steps to eliminate components that are problematic (as they are unlikely to be recycled) or unnecessary (as they add no value to the product or its protection). To this end, we have introduced alternatives to plastic straws for the first time in 2019 with our Indonesian brand AQUA.
II. RECYCLE, REUSE OR COMPOST IN PRACTICE
Redesigning packaging for the circular economy doesn't do much good if waste management systems don't ensure that it is recycled, reused or composted in practice. That's why Danone is committed to building effective, efficient and inclusive systems for collection, reuse and recycling.
WHERE WE ARE TODAY
Today, we are systematically seeking to work with public authorities and private companies to optimize formal Extended Producer Responsibility (EPR) and Deposit Return Scheme (DRS) systems. In fact, Danone pioneered the concept of EPR with the creation of Eco-Emballages (now CITEO) in France.
In countries where recycling collection systems are informal, we work with local municipal governments and partners, such as the Inter-American Development Bank, to improve waste collection standards and invest in recycling infrastructure. Danone and the Danone Ecosystem Fund have launched projects in 7 countries to support waste pickers, including by ensuring they work in a safe environment, receive decent wages and have better social protection. As of 2018, nearly 6,000 waste pickers have been professionally supported and more than 45,000 tonnes of waste are recycled each year through these projects.
Finally, our brands have worked to engage consumers in the circular economy and support cutting-edge research innovations. For example, Danone AQUA has committed to recovering more plastic than it consumes in Indonesia, including by intercepting marine litter.
In Switzerland, evian® is an early member and on the board of PET Recycling Switzerland (PRS). PRS operates a nationwide network of more than 56,000 collection points. Through a variety of initiatives, PRS successfully motivates consumers to recycle: at 82%, Switzerland has one of the highest recycling rates in the world.
WHAT WE ARE WORKING ON
We will also actively contribute to meeting or exceeding collection targets set by regulators, such as the EU's expected target of 90% collection of beverage bottles by 2025. To achieve this, we will support the most effective publicly organized schemes, including extended producer responsibility and deposit return schemes.
We will also increase investment in private initiatives that strengthen circular economy infrastructure, particularly in countries where there are no formal collection systems or where there is a high risk of plastic waste entering the environment. We have invested over $5 million in the Closed Loop Fund, which is developing large-scale recycling infrastructure in the United States, and are looking to invest in similar initiatives, such as Circulate Capital in Southeast Asia.
By 2025, we will have initiated or supported collection and recycling initiatives in each of our top 20 markets, accounting for approximately 90% of sales.
III. CONSERVATION OF NATURAL RESOURCES
Moving to a circular economy means trying to stop using packaging made from finite resources. This helps to conserve natural resources and keep existing materials in use and out of nature. To reduce the need for newly created material, we are working to increase the amount of recycling.
WHERE WE ARE TODAY
In 2017, we achieved an average of 36% recycled content in our packaging globally, including 14% recycled PET in our water and beverage bottles. Since August 2020, all Volvic PET non-returnable deposit bottles in Germany are made of 100% rPET*.
We are investing in the development and use of renewable, bio-based materials to accelerate the transition away from fossil fuel plastics. For example, since 2017 Danone has been involved in the Natur'ALL bottle alliance, a partnership with Nestlé Waters, PepsiCo and Origin Materials. The aim is to produce a bottle made from bio-based raw materials such as waste paper or sawdust.
WHAT WE ARE WORKING ON
We intend to dramatically increase the amount of recycled and bio-plastic in our packaging. By 2021, we will introduce PET bottles made from 100% rPET* in all our key water markets. By 2025, we will achieve an average of 25% recycled content in our plastic packaging, an average of 50% in our water and beverage PET bottles and 100% in evian® PET bottles. We will also strive to offer consumers PET bottles made from 100% bioplastic.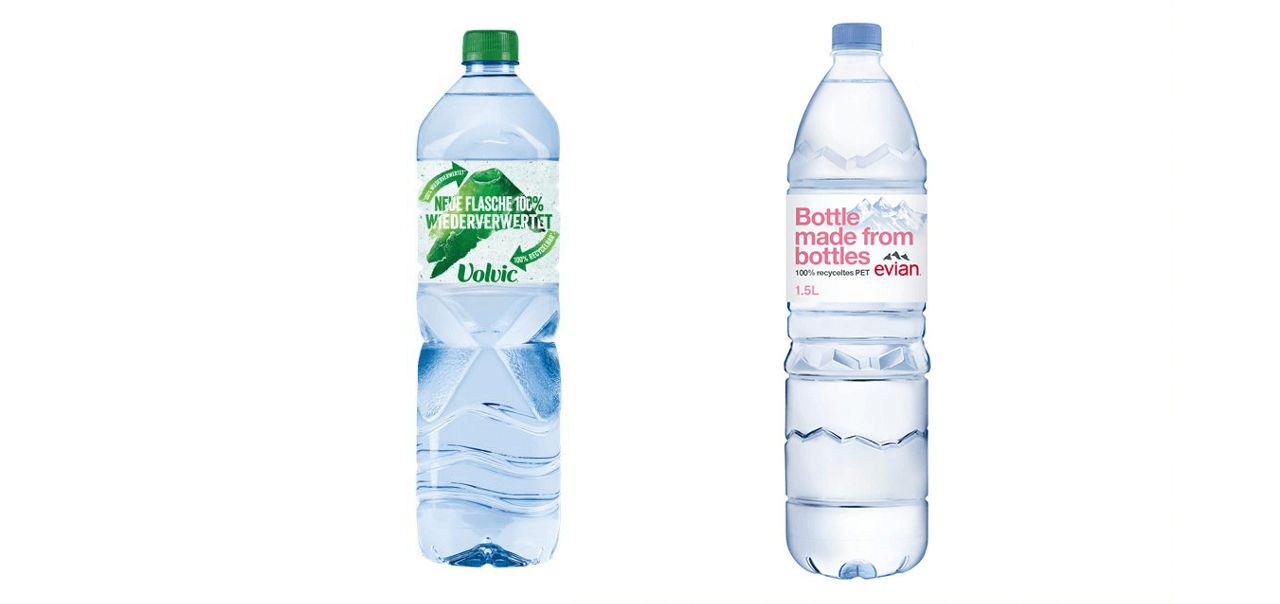 For more information on our circular economy strategy, see our updated Packaging Policy.