Volvic Limotion
A good mineral water starts with a healthy nature. And a good lemonade is made with good mineral water and no extras. In 2018, we launched Volvic essence. The first mineral water with fruit and herbal extracts and organic lemon juice but no frills. Now we're conquering the lemonade market - with our carbonated mineral water lemonade Limotion!

It is our responsibility to protect it. For more than 10 years, we have been preserving the origin of this valuable natural product - the environment and the source from which our natural mineral water emerges. That is why Volvic is characterized by excellent taste and very good quality. Back to the natural source is our motto when it comes to new beverages, too. Volvic Limotion is a pure experience. Natural carbonated mineral water, natural fruit juice concentrates and natural flavors form the basis - artificial additives are off-limits. Stabilizers, preservatives and colorants, antioxidants and too many calories therefore don't even get in. For uncompromisingly good taste.
And that's not all. Volvic Limotion also makes no compromises when it comes to packaging: The bottles are made of 100 percent recycled plastic (apart from the lid and label, which we are working on). And thanks to the deposit system in Germany, around 97 percent of all non-refillable PET bottles are returned to retailers and can thus be recycled.*
In terms of taste, Volvic Limotion comes, despite less sugar** (approx. 4g sugar/100 ml, under 20 kcal/100 ml), in the three flavors orange, lemon-lime and blood orange, leaving no one thirsty. Right from the start, we have two sizes ready: the 0.45-liter bottle and the 0.9-liter bottle.
More naturalness, less frills, of course! For more information, click here.
Volvic essence
In Volvic essence, there's only what matters: a natural mineral water with 100 percent natural fruit and herb extracts and a dash of organic lemon juice concentrate - in organic quality! How does that work? By focusing on the essentials: no sugar, no calories, and no sweeteners or preservatives. Simply without extras. Volvic essence doesn't just make consumption easy: We know that water is the healthiest way to stay hydrated (source: DGE). If we don't drink enough, our performance suffers.***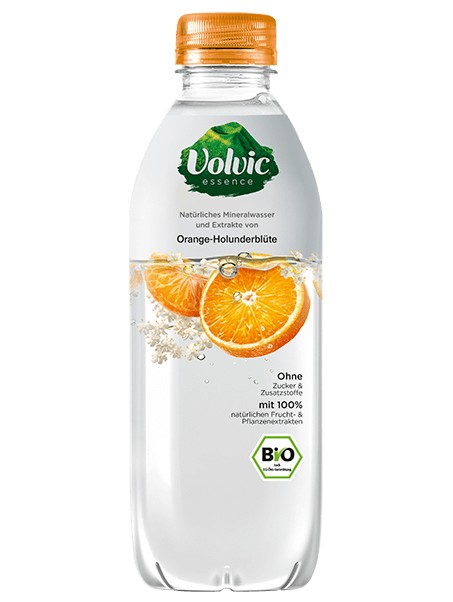 Volvic essence can be taken anywhere thanks to the practical bottle size (0.75 l); - and with a clear conscience, because the 100 percent recyclable single-use bottles**** are even made of 100 percent recycled material since the end of May 2020! With the four exciting flavors of apple-lemon, mint-cucumber, citrus-rosemary and orange-elderflower, Volvic essence offers the perfect variety in everyday life. Let's face it: there's no excuse for not drinking enough anymore! For more information, click here.
Volvic Bio Tee
In 2018, we launched Volvic Organic Tea. The varieties Hibiscus Tea with lychee and passion fruit flavor, Rooibos Tea with mango and passion fruit flavor and White Tea with rhubarb and cranberry flavor were so well received that we couldn't keep up at times! And we're stepping it up a notch: Volvic Tea Matcha with Cherry Blossom & Raspberry flavor in 0.37L and 0.75L bottles is available now.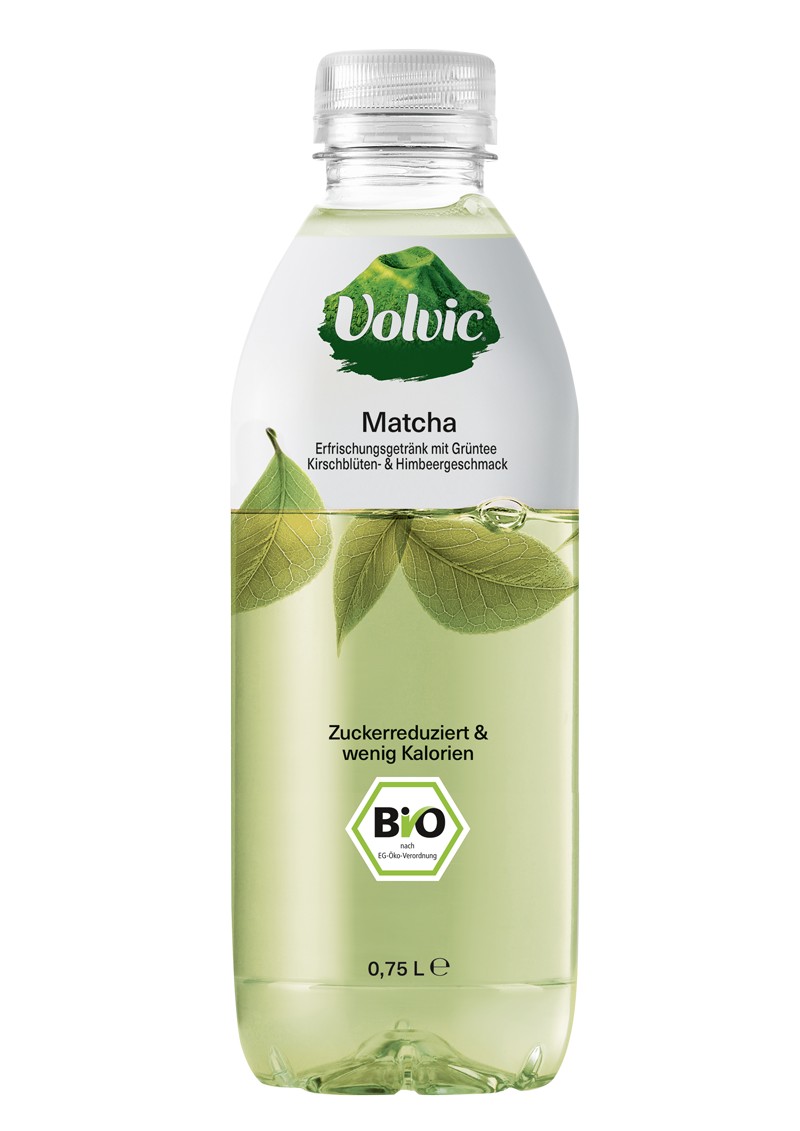 Nowadays, you don't need a lot of sugar to make a drink taste really delicious. The new Volvic Tea Matcha with Cherry Blossom & Raspberry flavor, just like all the other varieties, offers just that! It's made from 95 percent natural mineral water, yet it's still a flavor rocket. Just leave the high-sugar soft drinks on the shelf and choose Volvic Matcha instead. By the way, Volvic tea has 30 percent less sugar than typical tea-based soft drinks. For more information, click here.
** 30 percent less sugar than conventional sweetened soft drinks in Germany.
*** Source: Ganio, M., Armstrong, L. et al. (2011). Mild dehydration impairs cognitive performance and mood of men. British Journal of Nutrition, 106(10), 1535-1543.
**** Excluding lid and label. We' re working on that one.